Skip to content
Skip to navigation menu
HS5 Plastic Slide Handle
Plastic & aluminum hybrid lightweight actuator
Ensures a safe working environment
Key Features: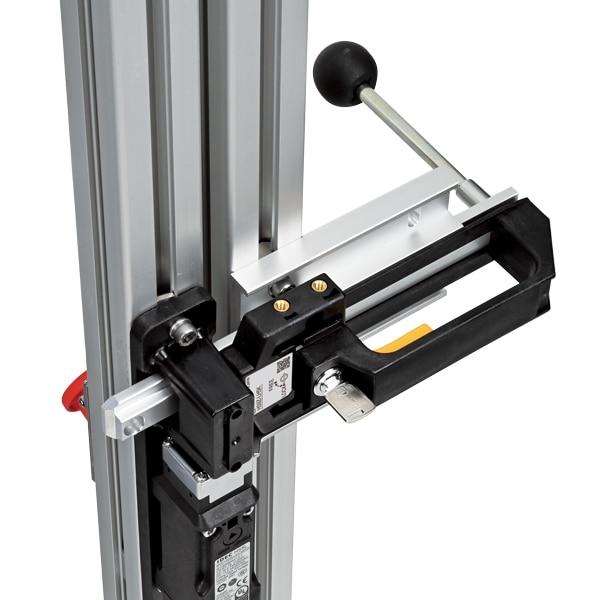 New slide handle actuator plastic & aluminum hybrid structure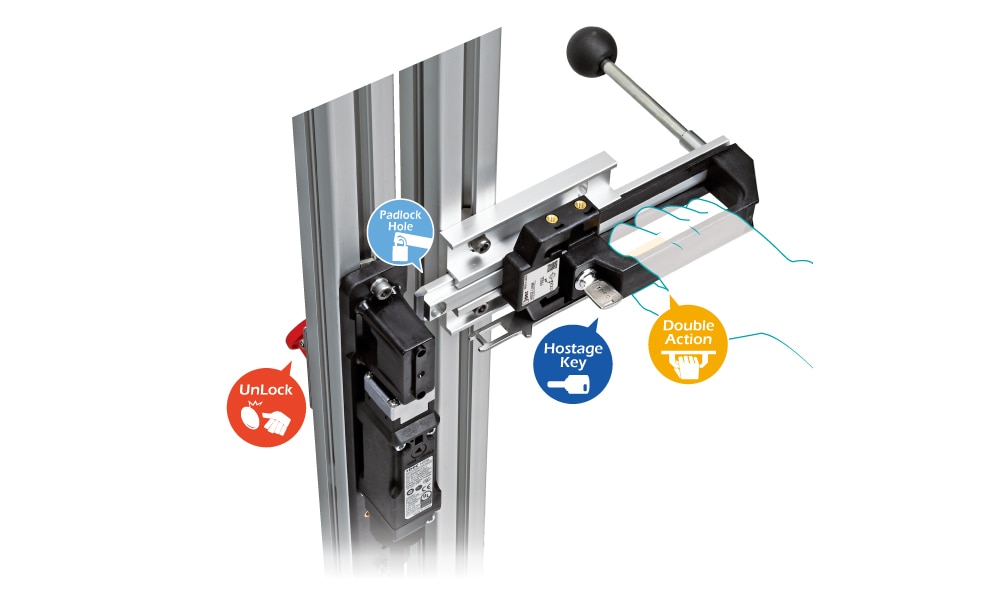 -Actuator with key also available for various working environments
* Image: actuator with key. Acutators with key or without key types are available.

The slide handle actuator supports 4-way operation (left/right door, sliding door/opening door) and prevents workers from being conned in hazardous areas, creating a safe working environment.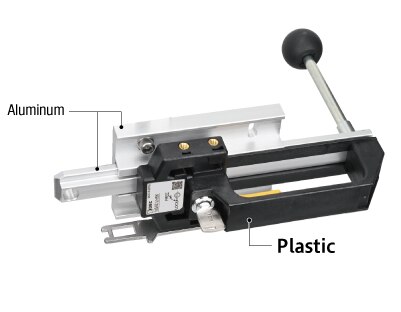 Plastic & aluminum hybrid design
Compact, lightweight but robust
The mounting part that fixes the actuator on to the safety guard is made of aluminum.
Emergency escape from inside hazardous areas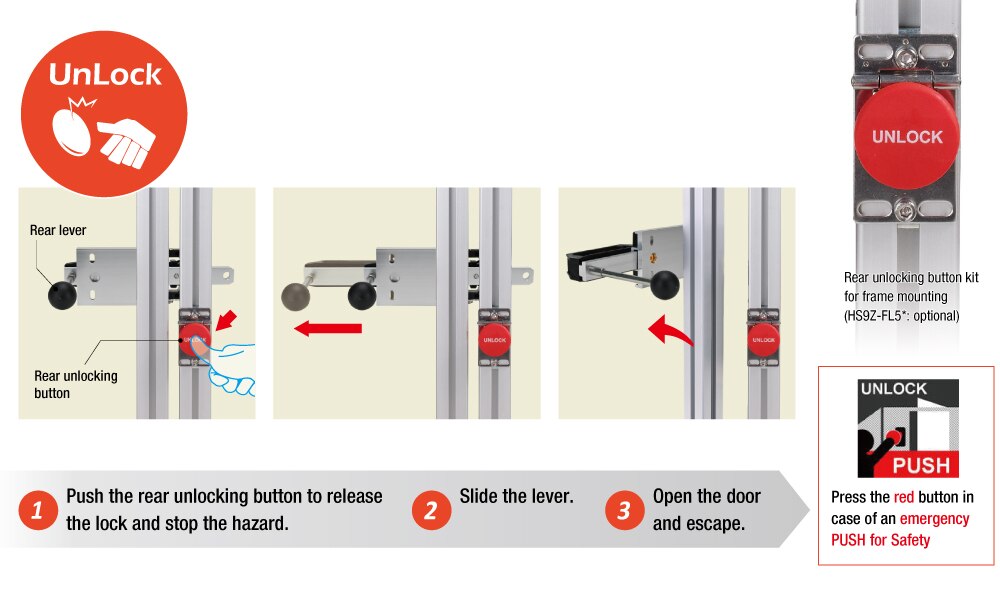 Even if an operator is trapped inside the hazardous area, the operator can escape by unlocking the lock using the rear unlocking button and by sliding the lever to open the door.
(Only when using the HS5L rear unlocking button model. Use with an optional rear unlocking button kit for frame mounting.)

ANSI/RIA R15.06-1999 11.2.2 Interlocking portion
b) The interlocking portion of the interlocked barrier shall be installed, applied, and maintained so that:
8) be capable of being easily unlocked from the inside of the safeguarded space with or without power available, when the possibility of full body access exists;
Two-step action prevents inadvertent operation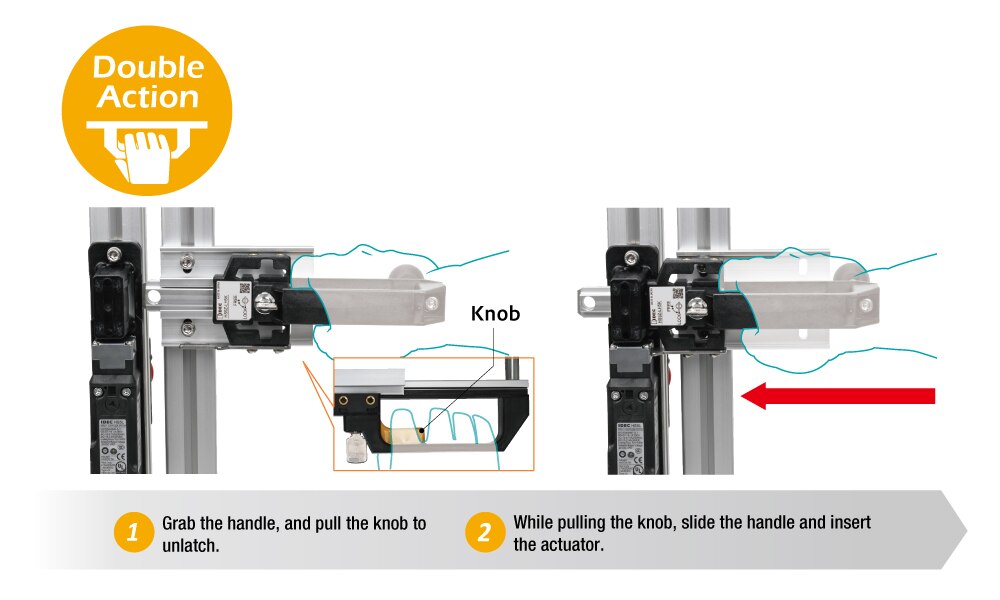 When inserting the actuator, ①unlatch the knob, ②slide the handle. Two-step action prevents the handle from inadvertent operation.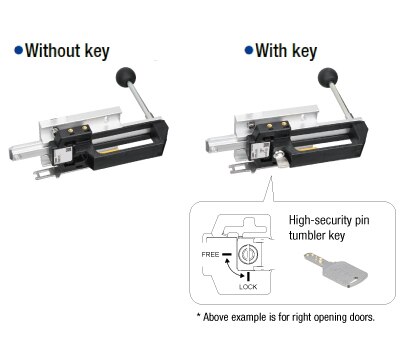 Hostage key
The key feature type has a keyhole on the handle of the actuator. When the key is turned and removed, the handle is locked to prevent unintended operation by other workers and to prevent the machine from operating unexpectedly, ensuring the safety of workers. There are 16 different key numbers, which can be used with the key selector switch.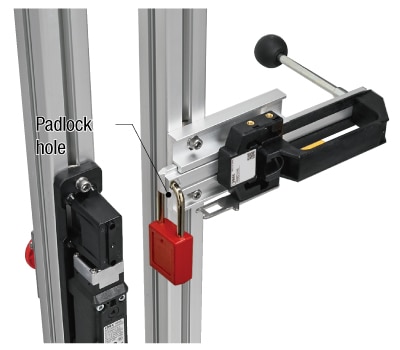 Padlock hole
Even with actuators without key, by installing the padlock, unintended operation of other operators can be prevented after the door is opened.

(Padlocks must be purchased by the customer)

ANSI/RIA R15.06 1999 8.4
Protection of personnel within the safeguarded space
Personnel required to perform tasks within the safeguarded space shall be protected by:
a) Preventing the re-initiation of any motion or hazardous process while personnel are within the safeguarded space, for example locking a gate open;
Catalogs & Brochures
Instruction Sheet
Catalogs & Brochures
Instruction Sheet