Skip to content
Skip to navigation menu
Circular Economy
Basic Concept
The IDEC Group including domestic and overseas companies, has proceeded the initiatives for recycling industrial wastes for accomplishing one of the environmental targets "Reduction in industrial wastes by 24% (compared to the level in FY2020) established in the medium-term management plan.
Initiatives for Recycling
Expand use of eco-friendly materials to product packaging materials
As a review of product packaging materials, we began to use bubble wrap made of film containing 25% or more biomass plastics at two bases in Japan in December 2021.
Initiatives for non-use of plastic bottles
In 2019, we have started the campaigns to stop selling plastic bottled beverages in vending machines at its major bases and encourages employees to use their own bottles and bring back plastic bottle taken from outside of the head office. Currently, the initiative has been prevailed not only to head office, but also major business bases.
Before "no plastic bottle challenge", approximately 60,000 plastic bottles were consumed at the head office. Only beverages of cans, glass bottles, and paper containers are sold now, and we realized the zero consumption of plastic bottles.
IDEC also participates in the "Plastic Smart" campaign promoted by the Ministry of the Environment and displays posters to raise awareness of the issue of marine plastic waste.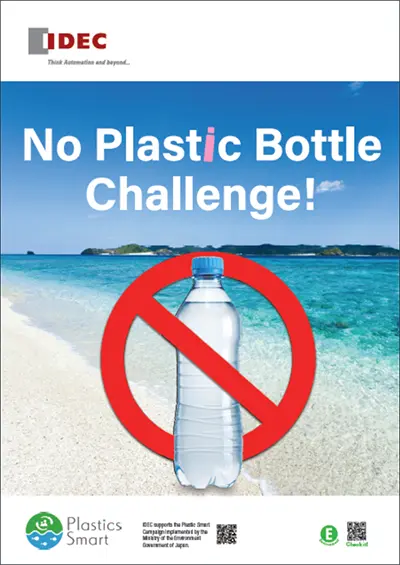 Circular reuse of surplus office furniture within group companies (Japan)
We have introduced the system of sharing information on surplus equipment such as desks, chairs, meeting tables of head office and reuse them among group companies of Japan, which enables not only to avoid disposal of large office furniture, but also to use them effectively among group companies. The amount of waste became approximate 1/3.
Initiatives for Reducing Industrial Wastes
Reduction of cardboards and packing materials used for transportation between factories (Japan)
Conventionally, packing wraps and cardboard to transport materials were used between domestic factories. We have adopted reusable eco-friendly packing band and uniform-sized folding containers. This not only reduces the volume of packaging materials and cardboard used, but also reduces man-hours. In FY2022, we accomplished the reduction of about 1.1 ton of packing wraps and 17 ton of cardboard annually.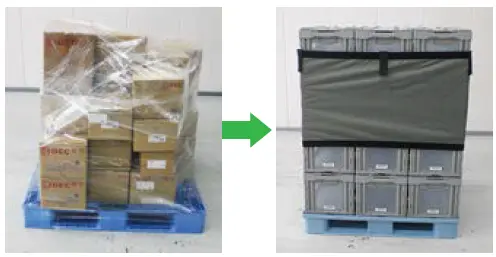 Packing wraps (left) were replaced to reusable packing bands and folding containers (right), which contributes to the reduction of not only packing wraps and cardboard, but also man-hours.
Reduction of plastic bags used at manufacturing bases (Suzhou, China)
IDEC IZUMI SUZHOU (China) has addressed the initiative to reduce the amount of non-reusable plastic bags conventionally used at manufacturing bases and for shipping since FY2023. Instead of plastic bags, reusable soft trays and buckets are used. The final goal is to use zero plastic bag, and it is expected to reduce 2.7 ton of plastic bags annually.
<Before improvement>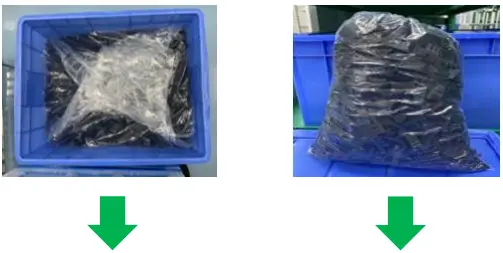 <After improvement>

Introduction of the garbage disposer at cafeteria (Head office, Japan)

The garbage disposer which decomposes garbage and water into carbon dioxide and "Green ozoniser" which constantly purifies a grease trap have been introduced to the cafeteria of the head office in February 2022. It is expected to reduce food waste and environmental impact by human sewage.

Approximate eight ton of inedible parts and garbage have been discharged annually from the cafeteria of the head office. By introducing the equipment, it is expected to reduce them to almost "ZERO". In addition, chopsticks used at the cafeteria were replaced from disposable ones to reusable ones, which leads to the reduction of the wastes of disposable chopsticks.


The garbage treatment equipment


Grease trap purifying equipment


Reusable chopsticks used at the cafeteria of head office
Green Purchasing

Basic Concept

IDEC established "Green Purchasing Procedure" for the purpose of promoting the purchase of eco-friendly stationery, office supplies and instruments in 2018. The procedure defines the purchase standards per item such as copy paper, stationery, office furniture based on the Law Concerning the Promotion of the Survey of the Eco-friendly goods and Services by the States and other Entities (Green Purchasing Law) established by the Ministry of the Environment.

By prioritizing the purchase of products in compliance with the Green Purchasing Law and the products with over a certain rate of pulps made of recycled paper and plastics, we aim to form a circular society by sustainable development.

Use of FSC® certified paper (Japan)

FSC® certification system (Forest certification system) is an international certification system that uses strict standards to assess whether forests are managed in an eco-friendly manner to protect the forest environment and whether wood produced from well-managed forests is used as raw material. It is operated by FSC®, Forest Stewardship Council. The notice of the general meeting of shareholders and the shareholders newsletters are printed on FSC® certified paper.

Use of vegetable oil ink (Global)

Vegetable oil inks are inks made from plant-derived oils such as recyclable soybean oil, flaxseed oil, tung oil, coconut oil, palm oil, and recycled plant-derived oils from waste edible oils.
Vegetable oil inks are used to print the notice of the annual general meeting and the shareholder newsletter.

Provide rainforest alliance certified coffee (Head office)

The Rainforest Alliance is an international non-profit organization dedicated to the conservation of biodiversity and the promotion of the rights and well-being of workers, their families and local residents. The cafeteria of IDEC's head office offers free drinks, and serve coffee to our employees using coffee beans of farms which meet sustainability standards and certified by Rainforest Alliance.