Skip to content
Skip to navigation menu
Environmental Management System
Environmental Management System
Basic Concept
IDEC considers that the matters related to climate change have made a large impact on our business, and activities by the top management have promoted initiatives.
Throughout our business activities, we consider risks and opportunities in compliance with laws relating to the protection of environmental pollution and environment, and develop eco-friendly products. We also address to reduce impact on environment per each area and department based on the environmental management system for the achievement of the medium-term environmental targets.
Environmental Management System
We have established a global environmental management system under the environmental governance framework (click here for details).
The global environmental management system is composed of the ISO14001-certified environmental management system (EMS) of each company in Japan, the ISO14001-certified EMS of all the overseas factories including APEM's head office, and overseas sales companies. Overseas sales companies have conducted activities in compliance with the basic contents of ISO14001 under the global EMS.
As for initiatives for the environmental management, we introduce a framework that a person responsible for the environmental audit is appointed for the purpose of the objective and fair internal audit of the management system, and environmental auditors who received the training for internal auditors held by a certification agency conduct an internal audit.
The person responsible for the environmental management obtains information on the established and revised environmental laws and regulations, and updates our lists of environmental laws and regulations. Each department controls daily environmental risks based on the lists of environmental laws and regulations. The person responsible for the environmental audit conducts the audit of the compliance status at internal audits, and our Environmental Management Operational Organization secures the compliance status. This is how the compliance with environmental laws and regulations is secured.
Moreover, environmental aspects and environmental targets of each department are selected in consideration of risks and opportunities of each department, and they are approved by the Senior Executive Officer in charge of environment.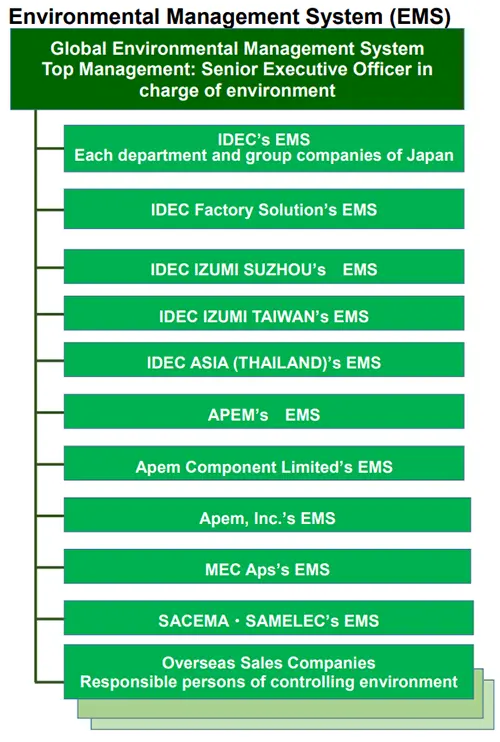 ISO14001
Management System Based on ISO14001
Since the acquisition of ISO14001 certification of the international standards for environmental management in September 1997, IDEC has been engaged in efforts to contribute to the protection and maintenance of the global environment. Following the revision of ISO14001 in 2015, all group companies in Japan and all overseas factories including APEM's head office have acquired certifications as below. Overseas sales companies conduct activities in compliance with the basic contents of ISO14001 based on the global EMS.
ISO14001 Acquisition Status
■Japan■
Organization Name
Certificate
Certification No.

Expiration Date

IDEC Corporation
・Head Office
・Amagasaki business site
・Fukusaki business site
・Takino business site
・Kiba business site
・Tatsuno business site
Tokyo sales office, IDEC SALES SUPPORT CORPORATION
IDEC SYSTEMS & CONTROLS CORPORATION
IDEC AUTO-ID SOLUTIONS CORPORATION

JP20/071655
SEP/30/2024
IDEC FACTORY SOLUTIONS CORPORATION
13729-B
APR/16/2024
※IDEC LOGISTICS SERVICE CORPORATION is included in the certification range of the Tatsuno business site.
■Global■
| | | | | |
| --- | --- | --- | --- | --- |
| Country | Organization Name | Certificate | Certification No. | Expiration Date |
| France | APEM SAS | | No2013/57432.6 | Nov/13/2025 |
| UK | Apem Component Limited | | EMS 730070 | Nov/30/2023 |
| US | Apem, Inc. | | 44 104 20560015 | May/15/2024 |
| Denmark | >MEC Aps | | DK012767 | Oct/14/2023 |
| Tunisia | SACEMA・SAMELEC | | 01 104 2015613/01 | Nov/11/2024 |
| Thailand | IDEC ASIA (THAILAND) CO., LTD. | | JQA-EM7109 | Oct/2/2023 |
| Taiwan | IDEC IZUMI TAIWAN CORPORATION | | ARES/TW/I1909054E | Sep/11/2025 |
| China | IDEC IZUMI SUZHOU Co., LTD. | | 1 5/22E1092R00 | Feb/10/2025 |
Management of Chemical Substances
Basic Concept
The IDEC group conducts global initiatives for minimizing the impact of hazardous chemical substances on humans and environment. In order to reduce risks through products of the IDEC group, we control chemical substances in accordance with the international tendency flexibly. As for the impact of the emissions exposed from business sites to environment and the impact on workers' health, we take measures for reducing risks by the control and risk assessments in accordance with laws and regulations.
Management of Chemical Substances Contained in Products
Chemical substances that are restricted to be contained in products by each country's laws and regulations for securing European RoHS Directive, REACH regulations, and the POPs Convention are regarded as restricted chemical substances of the "Green Procurement Guideline of the IDEC Group". In order to insulate humans and environment from negative impacts, we address initiatives not to procure, mix, and contaminate materials and parts containing those chemical substances.
The Green Procurement Guideline of the IDEC Group
Initiatives for the EU RoHS Directive(2011/65/EU)(Japan)
Reduce and Control Emissions of Chemical Substances to Environment
We conduct hazard assessment and control the amount of emissions of chemical substances used in the production processes at business sites. We strive to minimize the impact on environment through the atmosphere, water and soil.
Management of Chemical Substances at Workplaces
We address to control safety and comply with laws and regulations in the use and preservation of chemical substances. In addition, we conduct risk assessments to find potential hazards and reduce risks, and increase the level of safety hygiene. In preparation for occurring emergencies, we establish the procedure for responding to emergencies to prevent industrial accidents.
Environmental Accounting