Skip to content
Skip to navigation menu
We use cookies to ensure that we give you the best experience on our website. If you continue, you agree with our policy statement.
Proposals for Safe Manufacturing
Development of Human Resources to Support Safety

Development of human resources capable of proposing safety and security to society

Safety training is provided to all employees to develop human resources who can propose safety and security to society.
In FY2021, safety training was expanded to our group companies in Japan, and in FY2022, safety training was provided to executives at our Suzhou factory in China, one of our major overseas production sites. From FY2023 onward, we are expanding the scope of safety training to include executive employees at our factories in Thailand and Taiwan.
During the training, employees learn about IDEC's safety-related history and approach to safety, safety products, and the most current information including Vision Zero* and Safety 2.0*, as we ensure their thorough knowledge through post-training comprehension tests.
*Vision Zero is an activity aimed at ensuring safe and healthy workplaces, based on the concept that all accidents and work-related illnesses that occur at workplaces can be prevented. If safe and healthy workplaces can be ensured, it will be possible for people to work under good physical, mental, and social conditions. It is believed that this will also lead to improved employee productivity and customer satisfaction.
*Safety 2.0 is a technological measure for collaborative safety that ensures safety by utilizing information and communication technology (ICT) and allowing information to be shared among people, things, and environments.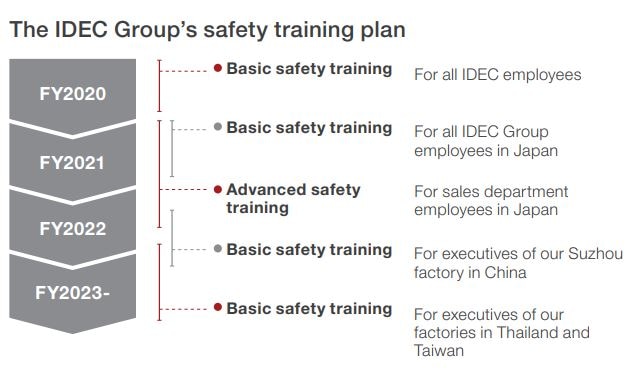 Training of professionals who can create safety, and qualified safety assessors
To ensure safety of manufacturing and safety promotions based on international safety standards, IDEC encourages employees to obtain safety qualifications and pays for the cost of taking examinations and renewing the certification.
As a result, we have the highest number of qualified person of Safety Lead Assessors in Japan, which is the highest level of personnel certification for machinery safety. We also encourage employees to obtain the Robot Safety Assessor certification, which certifies that they are qualified to possess basic robot safety knowledge, and the Safety Officer certification, which certifies management personnel for their knowledge of occupational safety management and their ability to perform it.
We provide safety consulting services that aim to achieve both safety and productivity, such as supporting risk assessments and proposing and developing risk reduction measures at industrial workplaces, utilizing our extensive experience in manufacturing and our advanced knowledge of safety.


Proposal of safe manufacturing
IDEC develops devices intended for machine safety measures and, as a manufacturer, evaluates the risks inherent in products themselves during development processes and takes necessary measures to address them. We are developing qualified safety assessors throughout the company, in divisions such as the product planning department and sales department in addition to the development and design department, who are responsible for conducting internal and external risk assessments, and we have established a cycle in which safety professionals train new professional personnel. This "Safety DNA" has been developed and passed down to foster the safety culture of IDEC.

Holding safety seminars
We hold various safety seminars (online) free of charge which cover topics from fundamental subjects to application and practical use, for customers to use safety-related devices and explosion-proofing related product correctly.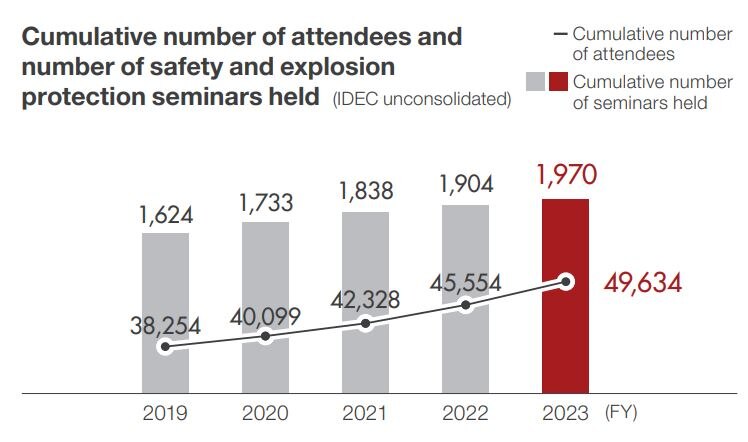 Implementation of safety consulting
Utilizing our extensive experience in manufacturing and our advanced knowledge of machine safety, we provide safety consulting services aimed at achieving both safety and productivity by identifying sources of danger at industrial sites, assessing risks, and preparing and implementing measures to reduce them.